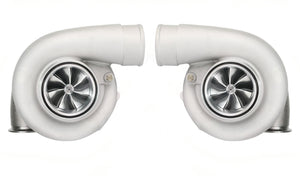 This is for a set of two turbochargers, one standard rotation and one reverse rotation for a nice symmetrical setup! They are set up with billet 78mm inducer compressor wheels and G42 style 75mm exducer turbine wheels. 
This set INCLUDES both turbine housing inlet and outlet vband flanges/clamps to make fabricating your kit as easy as possible! 
These have Open 1.28 A/R Vband Turbine housings for max effort usage! 
If you want a single turbo configuration equivalent, please check out our FP7875 Race turbocharger.